ACRYLIC VARNISH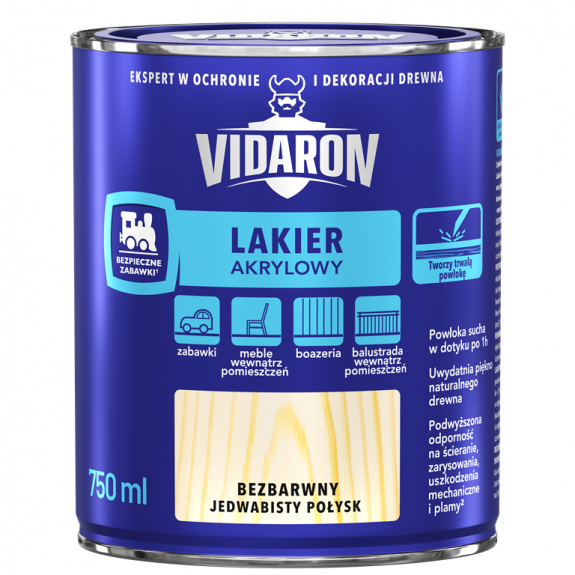 Description
The Acrylic Varnish is a fast-drying coat with a mild odour which forms a dry to touch film in just 1 hour. The Acrylic Varnish features a high resistance to abrasion, scratches, damage and stains from coffee, tea, and ketchup. The Acrylic Varnish forms a durable coat which highlights and preserves the natural colour of timber with all the beautiful features of texture. The product meets stringent European standards for safe toys per PN-EN 71-3 and PN-EN 71-2.
Core product features
Safe on toys
Forms a durable coat
Dry to touch in 1 h
Highlights the beauty of natural wood
Improves resistance to abrasion, scratches, damage and stains
Mild odour
Dries fast
Preserves the natural colour of wood
For indoor use
Product selection
The Acrylic Varnish is recommended for coating of furniture, railings, wooden panelling, wooden toys and wooden decorative features used indoor. The Acrylic Varnish can be applied in renovation of old coats of polyurethane, NC, and chemically cured or oil varnish products. The product properties make it a recommended choice for public facilities and private homes.
Efficiency
Containers :
400ml, 750ml, 2.5L, 10L
No products to be compared
Select products from the list in order to compare them