DECORATIVE – PROTECTIVE STAIN & VARNISH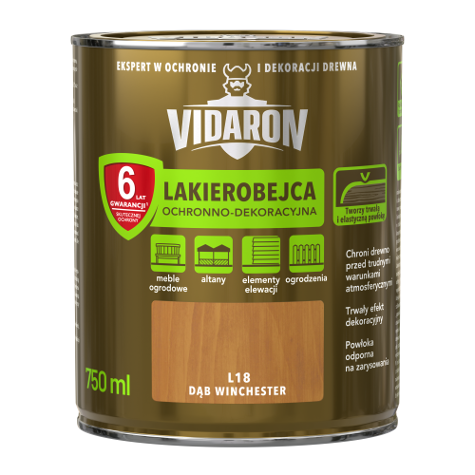 Description
Top quality Decorative – Protective Stain & Varnish establishes a durable, flexible and abrasion resistant coat on timber. It delivers effective protection against the sun (UV),water, snow and frost without obscuring natural wood grain.
Core product features
Establishes a durable and flexible coat
Sun (UV),water, snow and frost protection
Lasting decorative effects
Resistant to scrapes and scratches
Product selection
Decorative and protective coating of indoor and outdoor wooden and wood-based materials. The product is recommended for coating of wood joinery, wainscot, decorative strips, furniture, coffer panels, doors, and small garden architecture.
¹ Not applicable for colourless stain varnish.
¹ Warranty Issuer's name and address: Fabryka Farb i Lakierów Śnieżka SA, 00-854 Warszawa, Aleja Jana Pawła II 23, Poland. Warranty coverage and period: 6 years from the original purchase date of the product and in the Republic of Poland. If used and handled per the instructions on the product label, the Warranty Issuer guarantees effective protection of wood for 6 years from the date of original purchase. If any defect in protective performance of the applied product is found, the buyer shall be entitled to receive reimbursement of the product purchase price. The Warranty Issuer does not preclude, restrict or suspend the buyer's rights established by the laws of statutory warranty of defects in sold products. See the full warranty terms and conditions at www.vidaron.pl
Efficiency
20 m²/L max in one application
Containers :
400ml, 750ml, 2.5L
No products to be compared
Select products from the list in order to compare them