DECORATIVE AND PROTECTIVE PRESERVATIVE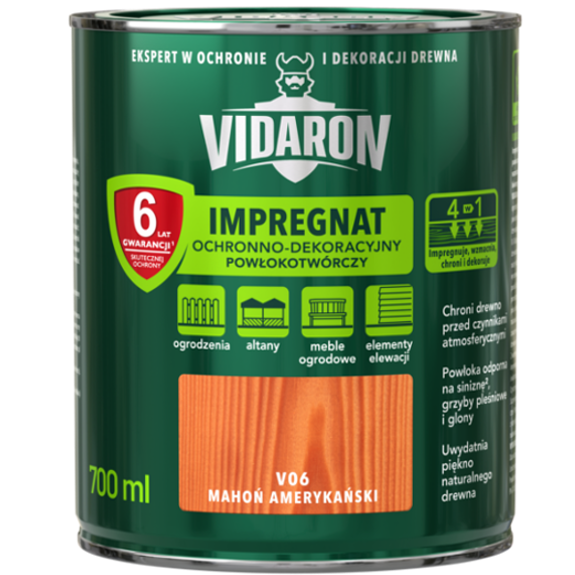 Description
Film-forming wood varnish for interior and exterior protective and decorative applications. Brings out the beauty of natural wood, penetrates wood structure, strengthens and protects it against the elements. Establishes a biocorrosion resistant protective coating on wood surface (against blue stain², fungus and algae). ²Used together with VIDARON Clear Protective Top-Coat, it delivers complete wood protection.
Core product features
4in1 – varnishes, strengthens, protects and decorates
6 year effective protection guarantee¹
Protects wood against the elements
Coating resistant to fungus, blue stain² and algae
Brings out the beauty of natural wood
Product selection
Wooden fences and gates, garden sheds, garden furniture, wooden façade elements, panelling, wood sheds, pergolas, construction timber and other smooth and coarse wood structures.
¹Warranty Issuer's name and address: Fabryka Farb i Lakierów Śnieżka SA Lubzina 34 a, 39-102 Lubzina, Poland. Warranty coverage and period: 6 years from the original purchase date of the product and in the Republic of Poland. If used and handled per the instructions on the product label, the Warranty Issuer guarantees effective protection of wood for 6 years from the date of original purchase. If any defect in protective performance of the applied product is found, the buyer shall be entitled to receive reimbursement of the product purchase price. The Warranty Issuer does not preclude, restrict or suspend the buyer's rights established by the laws of statutory warranty of defects in sold products. See the full warranty terms and conditions at www.vidaron.pl
Efficiency
Containers :
700 ml, 2.5L, 4.5L, 9L
No products to be compared
Select products from the list in order to compare them